A CULINARY TRIP AROUND THE WORLD IN PLAYA DEL CARMEN
Living in an international destination like Playa del Carmen has an array of advantages, one of them is: Food! As our little city by the sea continues to grow and expand, we are experiencing an incredible increase in diversity of local population and restaurants. New culinary influences from all over the world are making their way into our local food scene. Playa del Carmen's restaurant A-list offer different flavors and styles from around the globe.
Greece: Milos (Calle 38, corner beach. 984-118-3389)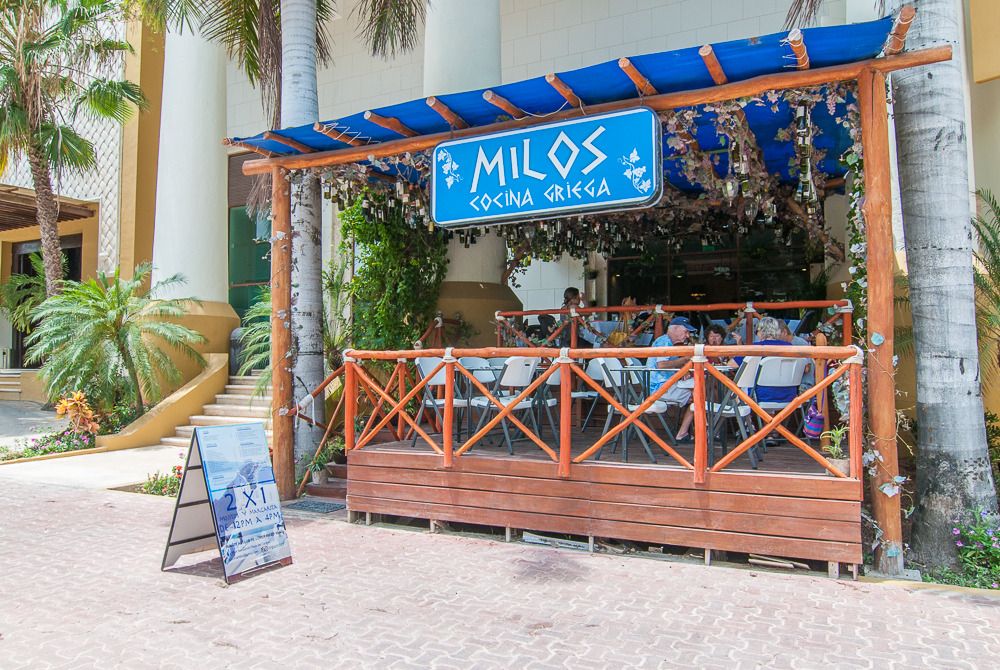 The owner of Milos is from Guadalajara but lived many years Mazatlan, on the Pacific side. His Chef, is originally from Greece and has been living in Mexico for many years now. Both decided to bring something different to Playa del Carmen, something that the locals and tourists weren't used to tasting in this Mexican Caribbean beach town: A Greek restaurant. Offering patrons original recipes and authentic products from the Greek Islands, this Mediterranean-come-to-Mexico is a unique treat for our foodie palates!
Kalamata olives and fresh feta cheese all imported from Greece
Melitzana; Eggplant in tomato sauce and feta cheese
The location of this charming restaurant is perfect considering the beach view as well as the breeze coming from the ocean while enjoying an authentic Greek meal and a delightful glass of wine. Products like Feta cheese, olive oil and Kalamata Olives are directly imported from Greece to Playa del Carmen. The Chef, Alexis Labiris, makes sure his restaurant patrons leave the restaurant satisfied and he often leaves his sacred kitchen to talk to customers and ask about their experience and satisfaction with his delicious cuisine.
Kolokithakia; Pumpkin served in homemade vinaigrette
Baklava
Milos is open everyday from 12h00pm to 11h00pm for lunch and dinner. With 1 hour anticipation, customers can call to get their favorite dish prepared and come pick it up to-go at the restaurant.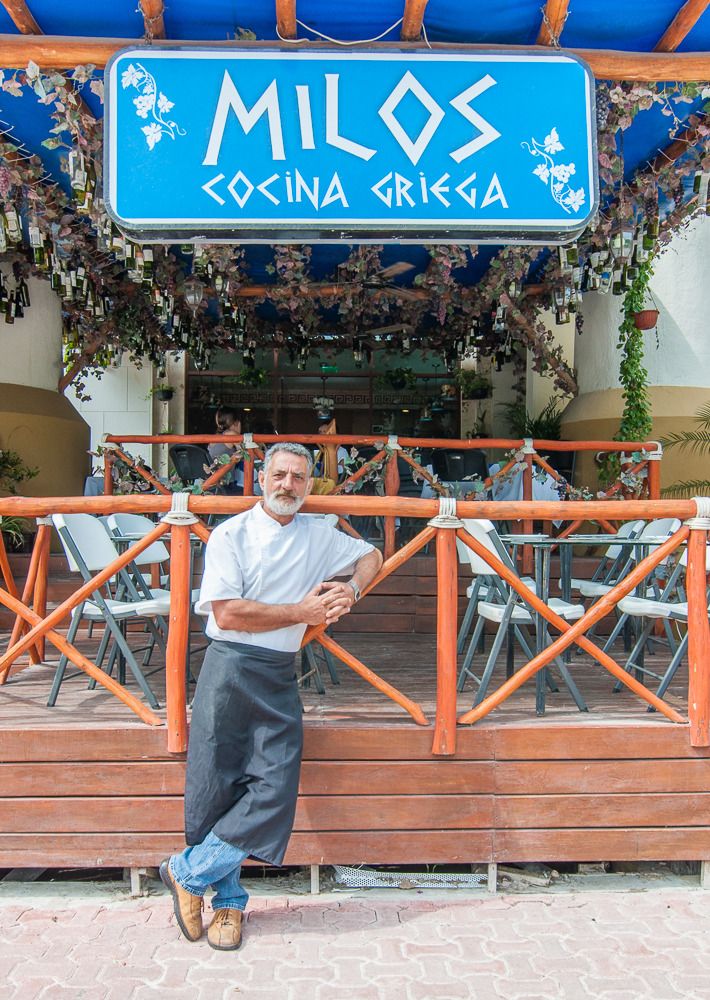 Japan: Sushi Love (Calle 14, between 5th and 10th Ave. 984-148-4566)
Sushi Love is an adorable and cozy sushi eatery. Owned by a sweet, young and inspiring Argentinian couple along with their associate Pato also from Argentina, they recently decided to start their own restaurant business a few steps from the world famous 5th Ave.
Caterina and Bruno also run 2 hostels in Playa del Carmen (El Tres Mundos and El Tequilita). Their dedication to their businesses at such a young age (all in their twenties) is truly inspiring and admirable.
Buenos Aires Roll
Vegeterian roll
Their food is made with love and attention to detail. All the ingredients are fresh and the owners pay very serious attention to the products they serve to their clientele as well as its presentation. For their vegetarian customers, many options are available. They also accommodate to special requests whenever it is possible to do so. The most important focus for Caterina, Bruno and Pato, is to serve their customers high quality fresh local products everyday.
Soul roll
Arroz Yakimeshi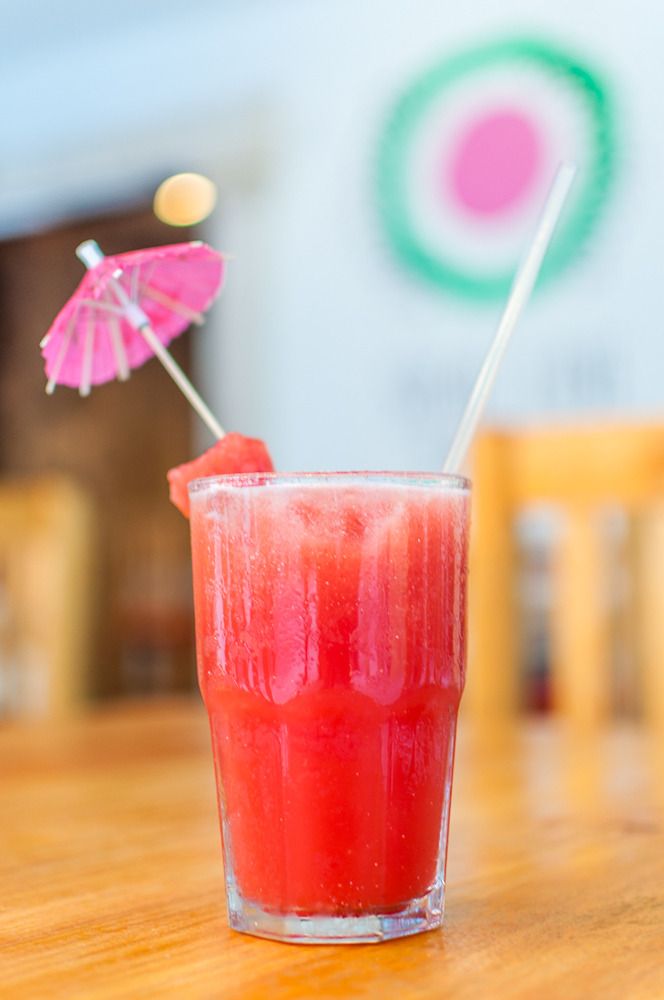 Fresh watermelon juice
Sushi Love has great promotions for their clientele and are always open to suggestions and comments. They open Tuesday through Sunday from 5pm to midnight. A great way to end or start a night out in Downtown Playa del Carmen!
Owners: Bruno, Caterina and Pato
Venezuela: Kaxapa (Calle 10, between 15th and 20th ave. 984-803-5023)
Kaxapa is an authentic Venezuelan family restaurant that opened its door 4 years ago in the heart of Playa del Carmen. At that time, the small restaurant ran by Jose Ramon, wife Vilma, daughter Naicel and son-in-law Moises had a couple of tables on Calle Constituyentes. Over the years word of mouth has turned Kaxapa into a Playa del Carmen institution as the first Venezuelan restaurant and meeting place.
Now in a new location, near the Central Plaza in downtown Playa del Carmen, this family business has grown and and so has the family, the next generation of Kaxapa can be seen on occasion in strollers and pigtails enjoying the family atmosphere and the delicious traditional cuisine: future helpers of this charming authentic Venezuelan eatery, perhaps! The menu offers typical dishes from Venezuela. Chef Vilma makes sure every meal is made with love and that the principal ingredient (corn) is prepared carefully and perfectly.
Cachapa (ground corn made from scratch)
Pabellon Criollo
Arepa Reina Pepiada
Kaxapa's varied menu offers traditional flavorful main dishes as well as appetizers and deserts. Clients can also get a taste of Venezuela by ordering classic fresh juices to refresh themselves from the hot sun of the Mexican Caribbean. The Kaxapa family open their doors from Tuesday to Sunday, 10am to 10pm and also offers delivery service.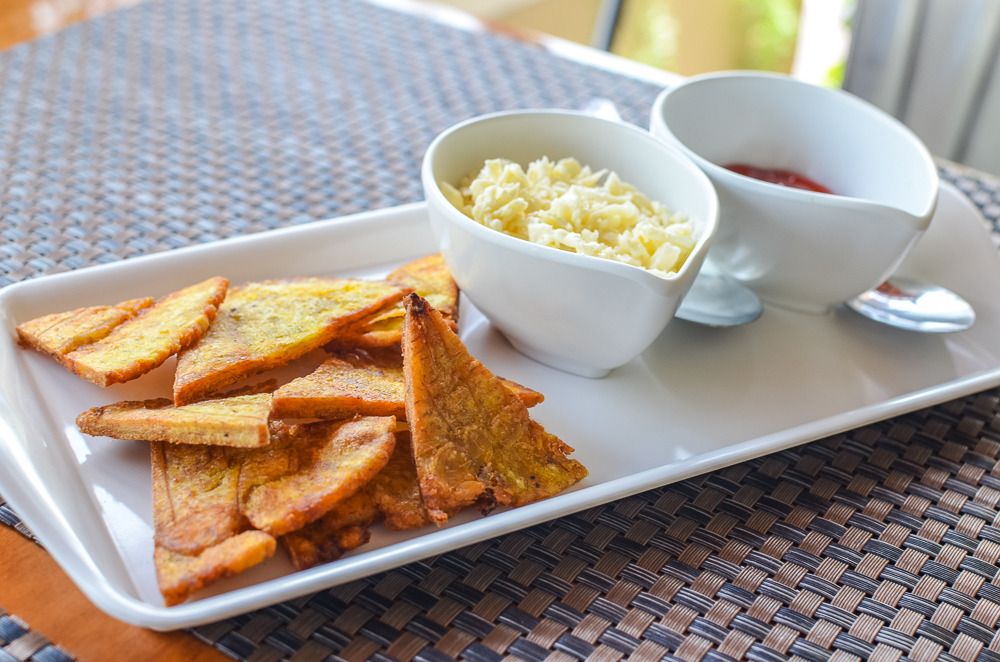 Tostones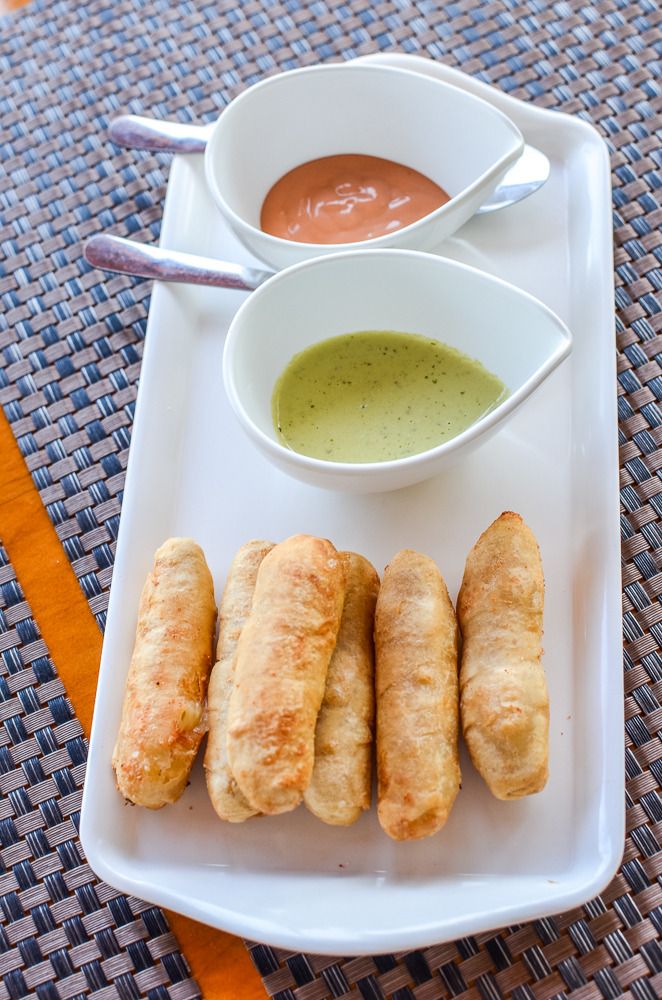 Tequenos Homemade Cheese sticks
Homemade brownie with ice cream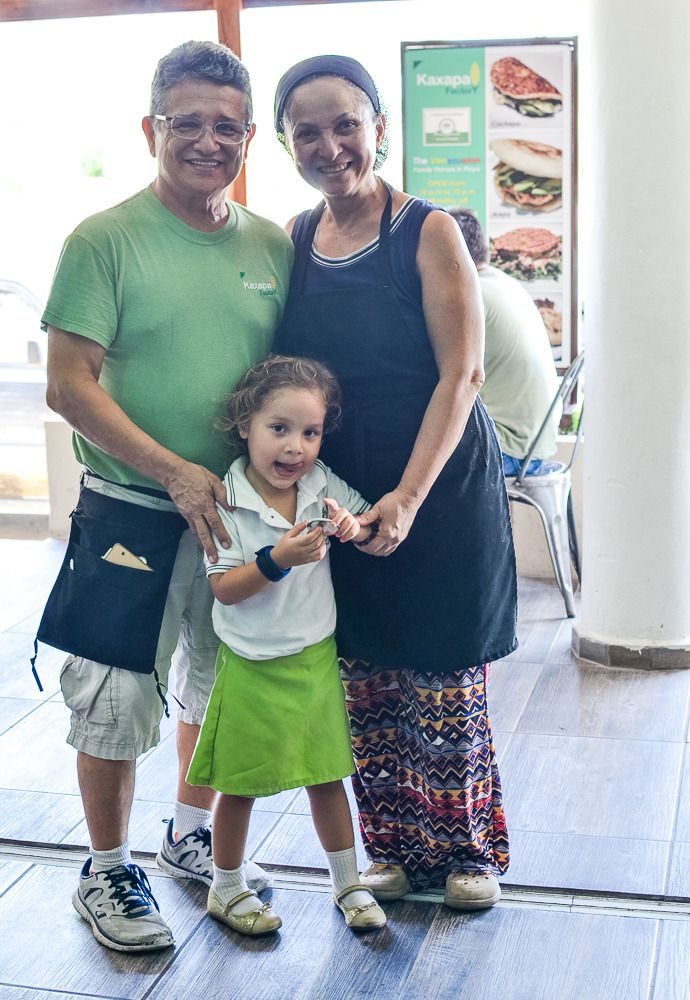 Owners: Jose Ramon, Vilma and grand-daughter Padme
Italy: Don Chendo (Avenida 30, between Calle 24th and 26th 984-803-5950)
Don Chendo is a charming American Style Italian restaurant where customers can enjoy family recipes such as Chicago style deep dish pizza. The owner, Russel Chendo channels his inner Italian American Grandma through his delicious cuisine inspired by family recipes that have been brought over from "the old country" and adapted as they were passed through generations of his family. Russel has been an active member of the Playa del Carmen community for over 10 years, he is well known as a dedicated community servant and is associated with MANY local charities.. He opened Don Chendo restaurant as a means to an end: a way to better serve the community and raise money to dedicate to increasing the quality of life for as many in need communities as possible.
The down-home atmosphere and homemade food has made Don Chendo's a popular destination for locals, expats and tourists alike. Deep dish pizzas, homemade meat balls, traditional family recipes from Italy and the US is what customers can expect when dining at Don Chendo's.
Chicago-style deep dish pizza
Chicken Parmesan with spaghetti
Don Chendo sponsors and supports many important local causes such as Christmas Dreams (bringing Christmas gifts to less fortunate children of the region) and the local Red Cross. The food is FRESH and the ingredients are all local, including the sweet leaf basil that Russel grows in his very own garden. No detail has been left unattended!
Angel hair pasta with shrimp and broccoli
Homemade brownie with ice cream
Don Chendo is open from Monday to Saturday, 3pm to 11pm with delivery service and take out option.
Owner Russell Granger and his team
BuyPlaya foodies are on a continuous mission to find edible gems like these, here in Playa del Carmen. We celebrate the dedication, passion and hard work the owners of these local small businesses put in to pleasing our palates and helping our community. By supporting local restaurants we are showing supporting for our cosmopolitan community that continues growing with each passing year. We are proud of our local businesses and business owners and are having a great time watching Playa del Carmen evolve into on of the most incredible beach-side cities in the world.
Keep following BuyPlaya foodies for more amazing culinary experiences and restaurant reviews!